Packers willing to host another college game
Richard Ryman
USA TODAY NETWORK-Wisconsin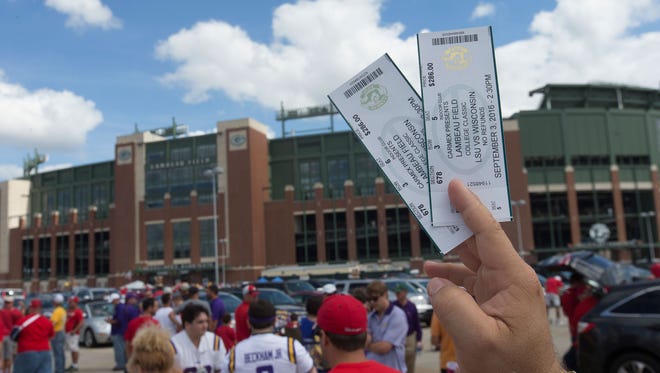 GREEN BAY - Saturday's successful University of Wisconsin-Louisiana State University football game at Lambeau Field has no scheduled follow-up, but the Packers are willing to do it again.
"Generally speaking, we would like to host additional games like this weekend, which was a tremendous success, a fantastic extended weekend," Packers spokesman Aaron Popkey said Tuesday.
Almost before Saturday's game was over, a rumor of a Wisconsin-Notre Dame matchup was floated. Notre Dame did not respond to inquiries on Tuesday, and Popkey said no specific games are scheduled.
Wisconsin spokesman Brian Lucas said the university had no comment on future opponents or dates, but athletic director Barry Alvarez is on record as saying Wisconsin would be open to playing another game at Lambeau Field.
"From our standpoint, the cooperation of the Packers was terrific. They put on a great game, very well-run, and it was a tremendous experience for our student-athletes, staff and fans," Lucas said. "The memory of the game and the atmosphere is one that will last for a very long time."
Unranked Wisconsin defeated fifth-ranked LSU 16-14.
RELATED: Badgers' win means love from the polls
VIDEO: LSU vs. Wisconsin tailgating
VIDEO: LSU fans pronounce Wisconsin names
The UW-LSU game was expected to surpass the estimated $15 million economic impact of a Packers home game, boosted by LSU fans arriving in large numbers as early as Thursday and renting meeting and convention spaces, contracting with local companies for catering and generally spending money everywhere.
The Packers paid Wisconsin $3 million and LSU $2.5 million for the game. The Packers also covered game expenses. In return, they got all ticket money, which more than covered the compensation to the teams, as well as parking, concessions, sponsorship and merchandising revenue.
It was the first major college football game to be played at the stadium, which will be 59 years old on Sept. 29.
As to the Fighting Irish, Notre Dame football coach Brian Kelly said last year that Lambeau Field would be a great place to play. The Notre Dame communications office clarified that he wasn't talking specifics.
"I think he was just talking about landmark places that would be cool to consider. I don't think he was talking about anything specific," Michael Bertsch, director of football media relations for the university, said at the time. "Lambeau would qualify as a cool place."
The university, which has alumni across the nation, institutionalized neutral-site games into its Shamrock Series, which began in 2009 when the first game was played in San Antonio. The series went on to New York (2010), Washington, D.C. (2011), Chicago (2012), Dallas (2013) and Indianapolis (2014), according to the university's website. Notre Dame played at Fenway Park in Boston in 2015 and will play in the Alamodome in San Antonio, Texas, on Nov. 12.
Packers President and CEO Mark Murphy and Alvarez have a good working relationship, which makes a Wisconsin game more likely. Also, as Popkey pointed out, Wisconsin is a natural geographic fit with a statewide fan base.
In any case, it will be years before another game would be played at Lambeau Field because colleges schedule years in advance.
"Our next window would be multiple years in the future," Popkey said.
Based on each team's schedule, the earliest they could play would be 2020.
In the meantime, it was revealed last week at a Green Bay/Brown County Professional Football Stadium District meeting that the Packers are talking with a promoter about hosting a concert at Lambeau Field in 2017. Details were not revealed, though reportedly the promoter approached the team.
Contact rryman@greenbaypressgazette.com and follow him on Twitter @RichRymanPG, onInstagram at rrymanpgor on Facebook at Richard Ryman-Press-Gazette. Or call him at (920) 431-8342.