Q&A: Richard Rodgers takes praise in stride
Ryan Wood
USA TODAY NETWORK-Wisconsin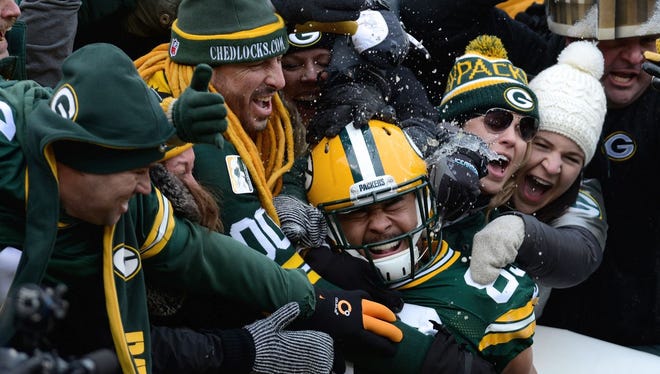 Four months into his first NFL season, Green Bay Packers tight end Richard Rodgers still has a rookie's humility.
Ask him about the compliment quarterback Aaron Rodgers extended to him last week. On his weekly ESPN Milwaukee radio show, Aaron Rodgers said the Packers' third-round tight end might have better hands than anyone on the team.
Does Richard Rodgers agree?
The rookie tight end answered that question and many more in this week's Q&A with Press-Gazette Media.
It's obviously a rare opportunity to play for a championship. How surreal is it to make it to this stage in your first season?
"I think it's a blessing. A lot of people don't get a chance to play in the playoffs or win a playoff game, so it's been a good run so far. Hopefully, we can keep it going."
Did you hear Aaron Rodgers say this week you have the best hands on the team?
"I didn't hear him say that, but it's a great compliment. I'm sure I'll say, 'Thank you.' "
That compliment has to make you feel pretty good, hearing it from him?
"I'm sure there can be a debate about it."
Would you agree with him?
"I don't know. I mean, there's some guys with some pretty good hands on the team. I can't say I have the best hands, but if Aaron wants to say that, he can."
When you thought about it after the game, how much did it mean to you to have a game-winning touchdown in your first playoff game?
"I just try to take advantage of my opportunities. I just happened to be the person in that spot. It could've been (Andrew Quarless), it could've been (Brandon Bostick). It really could've been anyone. I'm glad I was in that spot, and I was able to make a play."
How did it feel for Aaron Rodgers to show that kind of trust in you as a rookie at that moment?
"I think he trusts all of us. He trusts everyone that goes in that they're going to make a play on the ball. It says a lot to the trust that he has for me, but I think it just says a lot about our team in general that we can all make plays, and we know that. Aaron knows that. So no matter who's in there, he's going to trust the person to catch it."
Your first home touchdown this season against New England, you forgot about the Lambeau Leap. You finally got a chance last week. What did you think?
"It was tough. It was a long drive, so I was real tired and when I got to the wall, it was actually bigger than I thought it was going to be. It was a tough one, but the next one will be better."
How different do you feel with a full season of experience behind you going into this Seattle game as opposed to the first game of your career in the opener?
"I think I know what to expect. I know how loud the crowd is going to be, how fast their defense plays. Obviously, this is the NFC championship, they'll probably play a little bit faster. But for the most part, it's just the whole noise level and just preparation. I know we have to communicate, and I know what I'm doing. We have to play fast, I have to play fast."
What did you expect going into that first game in Seattle?
"I kind of try not to expect anything. I try to leave it open. It was really loud, and that's pretty much what everyone was saying, was that it was going to be loud. So it was loud, it lived up to expectations. I just tried to take advantages of the opportunities I got in that game."
How much growth have you seen in your game since then?
"I think I'm just playing a little bit faster, a little bit more confidence in my knowledge of the playbook and knowing where I'm supposed to be, when I'm supposed to be there. I can't really put a number on how much I've improved or anything like that, but just knowing where I'm supposed to be and being able to play fast."
When did the game start to slow down for you?
"I don't think that's ever been an issue, the game being too fast. I think it's more of just mentally being able to have 100 percent confidence in what we're supposed to be doing, on the same page as Aaron and things like that."
When you look at your improvement and what you've accomplished your first year, how much have you set a foundation to build off of going forward?
"I just try to continue to improve. I think I set a foundation when I first got here. I just want to continue to grow."
When did you feel like you were on the same page with your quarterback?
"I don't know when it was, but I just try to have a full grasp of the playbook. Not only the actual working playbook, but what he's thinking. Because sometimes he does things differently, and if we get into a look or something like that and he changes it, we all need to be on the same page. I just try to ask him questions and learn what he's thinking in certain situations so I can be on the same page as him."
What would it mean to you to step up and make another play to help put your team in the Super Bowl?
"I just want to help my team win. If I help my team win, that's good enough for me."
— rwood@gannett.com and follow him on Twitter @ByRyanWood