Packers seek stability with revamped run game
Michael Cohen
Milwaukee Journal Sentinel
INDIANAPOLIS - Difficult though it may be, try to imagine a world with running back stability for the Green Bay Packers. Forget the revolving door of 2016 and the Weightgate scandal of the year prior and try, if you can, to remember what it was like before things got weird.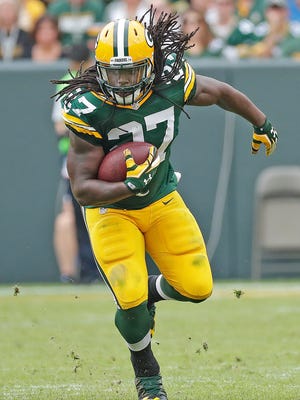 In 2013, rookie tailback Eddie Lacy ran for 1,178 yards and 11 touchdowns. His complement, James Starks, ran for 493 yards and three touchdowns.
In 2014, Lacy churned out 1,139 yards and nine touchdowns. Starks chipped in 333 yards and three touchdowns.
Such stability has eluded the Packers ever since.
Yet, at the NFL scouting combine this week, just six weeks removed from an NFC championship game in which quarterback Aaron Rodgers led the team in rushing, coach Mike McCarthy spoke optimistically about what might be. In 2017, if things go the way McCarthy hopes, he can pair a re-signed Lacy with a repositioned Ty Montgomery.
"I think it's important to recognize you always want some diversity between the running styles of your running backs, and especially when they can both play all three downs," McCarthy said Wednesday. "That's the most important component that I look for in running backs. They're all different. It's our job as coaches to take advantage of their skill set. But the fact that (they) can play all three downs and give you a different style runner is a huge benefit to our offense."
Aside from right guard T.J. Lang, another unrestricted free agent, nobody on the verge of exploring the open market received more praise than Lacy, whose rookie contract expires next week. McCarthy said repeatedly — and in multiple settings — that he would love to have Lacy back next season.
He went so far as to label Lacy a "core player" on the offensive side of the ball.
"We'd like to get Eddie back," McCarthy said. "He's our guy."
DOUGHERTY: Packers should pursue Peterson
RELATED: All in all, Thompson stays true to form
RELATED: McCarthy talks Perry, Lacy, Lang
While nothing is certain in free agency, and Lacy certainly could accept a more lucrative contract offer from another team, it's an interesting exercise to envision the Packers' running game next season: a one-two punch of Lacy and Montgomery; the bulldozing fullback Aaron Ripkowski; the slippery receiver Randall Cobb.
Lacy is preparing for free agency by rehabbing his surgically repaired ankle at the University of Alabama, and McCarthy said the Packers put a "network of support around him" to ensure that everything is done the right way.
"He's doing what he needs to do," McCarthy said. "He was hurt but he was in every meeting. I don't know if you guys talked to him when he was injured, (but) he was there the whole time. We want him back. He's coming off a major injury and he's got some things he needs to work on."
Still, the risk-reward of relying on someone with so much talent and — at times — so little discipline increases the importance of targeting a running back via the draft. Fortunately for the Packers and general manager Ted Thompson, this year's class is bursting with talent both early and late.
"One of their scouts said they might even draft two this year because they're so light at running back," said former Wisconsin tailback Corey Clement, who is projected to be drafted in the middle rounds. "It would be an awesome choice. I played in the harsh elements, the cold weather, the snow so it really wouldn't affect me after being in Wisconsin for four years."
Should the Packers choose to draft a running back early, former Stanford star Christian McCaffrey is a popular choice. McCaffrey's brother, Max, is a wide receiver for the Packers who finished the year on the 53-man roster.
McCaffrey straddles the border between first- and second-round pick, and he has been linked to the Packers because of it. There are a number of similarities between McCaffrey and Montgomery, his former teammate at Stanford.
"Ty can do it all," McCaffrey said Thursday at the scouting combine. "He's a heck of an athlete. I was lucky to be with him for a year at Stanford, and I wasn't even shocked (when he moved to running back). I could see that coming. He's a heck of a player. He can play receiver, play running back. He can do it all. When that happened, I was excited for him."
Perhaps there is room for one more.