Tight end Jared Cook among Packers' top priorities
Ryan Wood
USA TODAY NETWORK-Wisconsin
Eleventh in a series looking at the Green Bay Packers' unrestricted, restricted and exclusive-rights free agents in advance of the start of the 2017 league year and NFL free agency Thursday.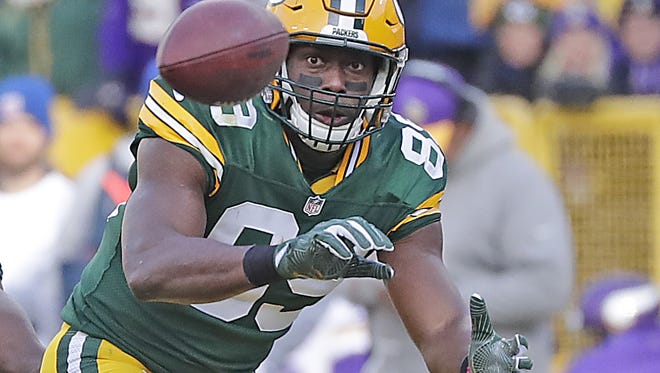 GREEN BAY – The search for Jermichael Finley's replacement — a big, athletic tight end to stretch the middle of the field — was fruitless for two years.
Ted Thompson, the draft-and-developer, tried his usual method to plug the biggest hole in the Green Bay Packers' offense. In the spring after Finley's career-ending neck injury, Thompson drafted Richard Rodgers in the third round. A year later, he drafted Kennard Backman in the seventh.
Rodgers gave the Packers 1,300 snaps playing all 32 games in his first two seasons. He caught 78 passes for 735 yards and 10 touchdowns. He was not Jermichael Finley, not even close. And the Packers' offense suffered.
By last spring, Thompson was left no other choice. When the then-St. Louis Rams released Jared Cook, removing the risk of potential suitors forfeiting a compensatory draft pick, Thompson made one of his savviest transactions in recent years. With a one-year deal worth $2.75 million, the Packers' offense filled its biggest vacancy.
Cook's season didn't go off without a hitch. He missed six games because of a Week 3 ankle injury, returning before Thanksgiving. When healthy, Cook gave the Packers their missing ingredient. He averaged 12.6 yards per catch last season, almost 3.5 yards per reception more than Rodgers' career average (9.3 yards).
Finally, the Packers once again could stretch the middle of the field.
"I really like the way he came in and grabbed ahold of our offense," McCarthy said at the NFL scouting combine in Indianapolis. "He's a playmaker. He's a matchup problem. He's given us some vertical stretch, and some one-on-one opportunities that we haven't had. He fought through a big injury, but I would just like to build off what he accomplished in his first year."
RELATED: Healthy shot at huge payday for Perry
RELATED: Ageless Peppers remains 'valued asset'
Of the 11 unrestricted free agents the Packers will consider re-signing, Cook might be most important. By now, the Packers have seen the difference in their offense when they have a playmaking tight end, and when they don't.
Last season, they saw that difference in a matter of weeks.
Cook's return from injury was perhaps the biggest catalyst for the Packers' midseason, "run-the-table" turnaround. Statistically, his presence changed the offense overnight. The biggest difference could be seen in his quarterback.
In Aaron Rodgers' first nine games last season — including three when Cook was new to the offense — the Packers quarterback had a 93.9 passer rating. He completed 63 percent of the 369 passes for 2,410 yards, 22 touchdowns and seven interceptions.
Cook returned in a Sunday night game at Washington. From that point, Rodgers had a 120 passer rating in the Packers' final seven regular-season games. He completed almost 70 percent of his 241 passes for 2,018 yards, 18 touchdowns and no interceptions. Rodgers' yards-per-pass average increased to 8.37, compared to 6.53 in his first nine games.
"Jared Cook, I think, needs to be near the top of the priority list, the way he played this year," Rodgers said after the Packers' loss in the NFC championship game at Atlanta.
Cook's market value is projected by Spotrac at four years and $13.7 million, an average of $3.4 million annually. With ample cap space available throughout the league and an ever-growing tight end market, an annual $3.4 million projection is likely far too shallow. At $3.4 million annually, Cook would've ranked as the 26th highest-paid tight end in the league compared to 2016 contracts, according to Over the Cap.
Last season, 16 NFL tight ends averaged at least $6 million per year.
When healthy, Cook proved last season he can still be among the league's most efficiently explosive tight ends. Among his 30 catches, four were for at least 25 yards, a 13.3 percent average that ranked fourth among NFL tight ends. A more explosive passing game made the Packers a better offense, and a better team.
The Packers were 8-2 during the regular season when Cook played, winning their final six games with Cook on the field. They were 2-4 in the six games he was injured. The Packers averaged 28.4 points per game when Cook played, and 24.6 points when he was out.
Cook wasn't the only reason for the Packers' late-season resurgence. Ty Montgomery converted from receiver to tailback and gave the Packers a reliable run game. Jordy Nelson, in his first season back from a torn ACL, got better and better almost by the week.
But his presence might have been the biggest factor.
"One thing no one ever keeps a stat about," McCarthy said in late December, "is … how much attention does a player require. That's important. So whether it's your quarterback or a running back or a tight end that can win one-on-one, those are all the things you have to factor into his presence here. Because he runs down the middle of the field, winning a one-on-one.
"The most important thing is he's a great teammate. He's been a great fit for our locker room."
RELATED: Rehabbing Lacy has plenty to prove
RELATED: Micah Hyde's market hard to measure
In Atlanta, Cook told PackersNews.com he wanted "to have a home for a while" with his next contract.
Cook benefited as much as the Packers last season. After the Rams released him three seasons into a five-year contract, his career was at a crossroads. Cook had never played in a playoff game in his first seven seasons. He had 11 different starting quarterbacks.
The meaningless late-season games wore thin. Cook yearned not only to play with a quarterback like Rodgers, but also to be part of a true contender.
He got his chance in 2016, and didn't waste it. Cook made the biggest play of the Packers' season, a 36-yard toe tap along the left sideline setting up Mason Crosby's game-winning field goal in the NFC divisional playoff game at Dallas.
It's no wonder Cook sounded sincere when asked late last season why he wanted to re-sign with the Packers.
"Because I love it here," he told Packersnews.com. "I haven't had fun playing football in a long time, and being here, being around these guys and this locker room and part of this organization, has allowed me to enjoy and see and do things that I've never been able to do in my career thus far."
Because of his six-game absence, Cook's 30 catches, 377 yards and one touchdown were modest. Projected over 16 games, Cook was on pace for 48 catches and 603 yards — not far from Finley's 61 catches for 677 yards in his last full season.
It's worth wondering how much more Cook could produce with a second season in the Packers' offense. Cook has thought about what staying with a familiar offense and MVP-caliber quarterback could mean for his career.
"It would be good to come back and play in a familiar offense," Cook said, "and learn even more from 12 (quarterback Aaron Rodgers)."
Jared Cook, ninth-year tight end
The skinny: Unrestricted free agent.
The snaps: Played 10 games, 5 starts in 2016; 117 games, 47 starts in career.
The stats: 30 catches, 377 yards, touchdown in 2016.
2016 salary: $2.75 million.