Ex-Packers TE Cook finds home with Raiders
Ryan Wood
USA TODAY NETWORK-Wisconsin
GREEN BAY - Jared Cook did enough in his lone season with the Green Bay Packers to impress a former member of the team's front office.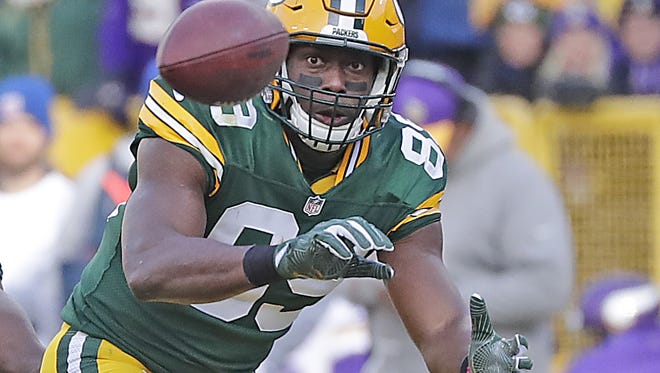 Cook signed with the Oakland Raiders on Thursday, according to multiple reports. He'll join another Super Bowl contender, and catch passes from another Pro Bowl quarterback in Derek Carr.
The Raiders are run by general manager Reggie McKenzie, who served as Packers general manager Ted Thompson's director of player personnel and director of football operations before being hired in Oakland before the 2013 season.
Cook signed a two-year contract worth up to $12.2 million with the first season fully guaranteed, according to NFL Network. That deal would allow Cook to re-enter free agency at age 31. If he receives all of his $6.1 million average per year, Cook will be the 19th highest-paid tight end in the league.
The end of Cook's free agency was unexpected. Cook was one of the Packers' two priorities this spring, along with outside linebacker Nick Perry. The Packers reached a five-year, $60 million contract with Perry on the opening day of free agency. They were in talks with Cook deep into that night and were close to a deal, but those conversations ended by the next morning after both sides reached a point of no compromise.
Meanwhile, the Raiders patiently waited. They expressed interest in Cook early, but had to wait for him to visit the Seattle Seahawks and Minnesota Vikings. He now will join a team that finished 12-4 last season and was considered a Super Bowl contender until Carr's season ended with a broken right leg.
Playing with an upper-level quarterback was important to Cook. With Aaron Rodgers throwing him passes last season, Cook revived his career in a prove-it year with 30 catches for 377 yards and a touchdown despite missing six games with an ankle injury. He added 18 catches for 229 yards and two touchdowns in three playoff games as the Packers ran the table into the NFC championship game.
"It would be good to come back and play in a familiar offense," Cook told PackersNews.com after the NFC championship game in Atlanta, "and learn even more from 12 (Rodgers)."
Cook aligned himself to be a fan favorite with a 36-yard sideline catch near the end of the Packers' divisional-round win at Dallas, setting up Mason Crosby's game-winning field goal. But a year after playing for $2.75 million, he was unwilling to accept another deal below market value.
Cook passed on better offers a year ago when he signed with the Packers with the understanding a market-level deal could be attained with a good season in a prove-it year. It was a similar situation fellow tight end Jermaine Gresham had with the Arizona Cardinals. A year after playing under a one-year, $3.5 million contract, Gresham re-signed with the Cardinals for four years and $28 million with $16.5 million guaranteed.
Gresham had 37 catches for 391 yards and two touchdowns while playing all 16 games with the Cardinals last season.
The Packers were unwilling to go there with Cook. So on the day talks ended, they moved on with a new plan that included not one, but two athletic tight ends to stretch the middle of the field.
They signed Martellus Bennett to a three-year, $21 million contract that only guaranteed the $6.3 million signing bonus. A day later, Lance Kendricks signed a two-year, $4 million contract with only the $1.2 million signing bonus guaranteed.
Money mattered, but Cook also will get a chance to win. It's something he said was important to him after spending his first seven seasons in Tennessee and St. Louis with no playoff games.
It's something Cook got to experience in his first season with the Packers, and wanted to continue moving forward.
"Because I love it here," Cook in December. "I haven't had fun playing football in a long time, and being here, being around these guys and this locker room and part of this organization, has allowed me to enjoy and see and do things that I've never been able to do in my career thus far."