Lack of accountability on defense cited in Dom Capers' demise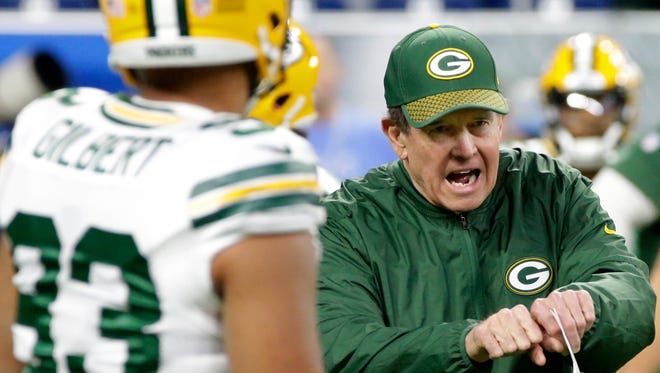 GREEN BAY - If there's one thing the Green Bay Packers' defense had a lot of this season, it was mistakes. 
Accountability, on the other hand, was minimal.
At least that was the message several players gave as they packed their bags during Tuesday's final locker room session at Lambeau Field, signaling the official start of the offseason. It was the first time they had faced the media since news that defensive coordinator Dom Capers and at least two assistants had been relieved of their duties, and emotions in the locker room ranged from frustration to confusion to shock.
Nearly everyone praised Capers for approaching the game with professionalism and having an immense knowledge of defensive concepts. Players were sorry to see him leave and, perhaps, felt a sense of responsibility for seeing their coach lose his job.
But two important members of the secondary offered a glimpse into the systemic issues that may have pushed coach Mike McCarthy toward such significant changes. Cornerback Damarious Randall and safety Ha Ha Clinton-Dix said players who made mistakes were not held accountable for their actions, and because of that the defense suffered from repeat offenders. 
After all, it was the back end of the defense that imploded more often than any other unit this season.  
"I feel like it goes hand in hand, I feel like it's both," Randall said when asked if the coaching staff failed the players. "Players weren't executing what they were being told, and I feel like maybe (that) wasn't being enforced enough, that we were still allowing guys on the field that wasn't getting the job done.
"That said, it's probably why we'll see some changes and hopefully change is good."
Randall's statement is interesting because he was one of the few players who was benched because of mistakes. A miscommunication in coverage against the Chicago Bears saw wide receiver Kendall Wright spring free for an easy touchdown in late September, and Randall was so upset with the decision that he was sent to the locker room for the second half after an argument along the sideline.
RELATED:Ted Thompson relinquishing role as general manager
DOUGHERTY:Shake-up puts Packers on path to new era
RELATED:Dom Capers pays price for Packers' dismal defense
The incident might have turned Randall's career around.
As the season progressed, Randall became the most reliable player in the secondary as injuries chipped away at veteran Davon House, inexperience and a shoulder problem derailed rookie Kevin King and Clinton-Dix showed significant signs of regression after a trip to the Pro Bowl last season. It was Randall whom the coaches trusted to shadow the other team's best receiver each week, and now he's in position to be the No. 1 cornerback next season with legitimate leadership potential.
"Obviously we did not get the job done this year, nor did we get it done last year," Randall said. "So obviously people expected change was going to be made, and changes got made. But I don't think that's the full tell of it. We're going to have to work. We're going to need guys to take big, big strides this offseason. We're going to need guys to come in here ready to go, whoever the defensive coordinator is."
More poignantly, Randall seemed to indicate that benching other players might have sent the right message throughout the season, though he couldn't say whether teammates agreed with him.
While Randall could have been talking about any number of people given some of the failings on defense, one player who received a lot of slack from the coaches was rookie Josh Jones, a second-round pick last April. Jones was burned for numerous big plays because of positioning errors, lapses in communication and mental mistakes that contributed to some of the defensive ugliness.
The coaches often admitted Jones' mistakes in weekly news conferences but continued to hand him significant playing time because of his speed and athleticism.
"I can't speak for other guys," Randall said. "I know I was going in every day playing to the best of my ability, playing the scheme. It just bothered me that guys were still on the field that were not doing what they were supposed to do.
"We have to make a lot of strides as a defense."
Jones certainly wasn't the only one blowing coverage this season. The Packers sometimes looked like a team that never had played zone defense, especially when inside linebackers Blake Martinez and Jake Ryan left holes in the middle of the field.
Clinton-Dix said the lack of veteran depth in the secondary made things very difficult when injuries worsened.
"I think that's exactly what it is," Clinton-Dix said. "We go from our starters to basically free-agent players. Sometimes that can hurt as we've seen through the years that I've been here, that we don't have the guys behind us that we had. Jarrett Bush here when I was a rookie. We don't have the Micah Hydes that can step in, we don't have the Chris Banjos or the Sean Richardsons that can step in and be held accountable. I think that's the biggest thing we're missing."
But specificity was not widespread, and other players were at a loss for words when asked to explain the defensive woes that landed the Packers among the worst teams in the league.
Outside linebacker Nick Perry: "I couldn't say."
Safety Morgan Burnett: "I don't know what was wrong."
Either way, explanations or not, the new defensive coordinator will be tasked with untangling a unit that has plenty of individual talent but very little cohesion, and team president Mark Murphy said the search has begun.
The responsibility of selecting Capers' replacement falls squarely on McCarthy, who will have final say even if a new general manager has not been hired. Interviews are likely to be conducted over the next few days to expedite the process.
"Mike has that authority," Murphy said, "and you know this is a time of year when things move pretty quickly, and I think on the coaching side you don't want to put yourself in a disadvantage."