Packers QB Aaron Rodgers hopeful of playing against Vikings despite sprained knee
Ryan Wood
Green Bay Press-Gazette
GREEN BAY - Aaron Rodgers said Wednesday he is dealing with a sprained left knee and is taking it day by day but remains hopeful of playing Sunday against the Minnesota Vikings.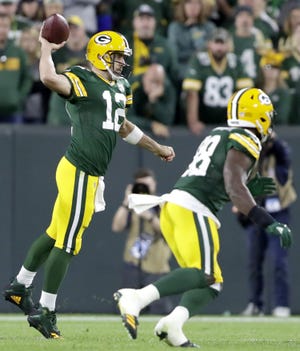 "I want to play," the Packers quarterback said, "but we'll just take it one day at a time and see how it feels tomorrow, and see how it feels Friday, and then Saturday and hopefully ready to go Sunday."
Rodgers said wearing a brace on the knee was a possibility, and that pain management will be a factor in whether he's able to play.
Rodgers wasn't the Packers' only key offensive player limited at Wednesday's practice. Receiver Davante Adams also missed practice because of a shoulder ailment. Adams had five catches for 88 yards and a touchdown in the Packers' 24-23 opening win against the Chicago Bears on Sunday night.
Adams said he sustained the injury late in the Bears game when he fell hard on his shoulder after a 51-yard completion but feels good about his outlook for playing Sunday.
Safety Josh Jones (ankle) was the only other player who did not practice Wednesday. Inside linebacker Oren Burks, who was inactive Sunday because of a shoulder injury, participated in the nonpadded practice.
Earlier Wednesday, coach Mike McCarthy also had described Rodgers' status as being "day by day."
Rodgers suffered a the knee injury in the first half of Sunday night's game. Although the Packers quarterback returned in the second half and engineered a come-from-behind 24-23 victory, it isn't known whether he will be able to play with the injury Sunday against the Vikings at Lambeau Field.
McCarthy said Rodgers would be "day by day" and "will be given the whole week to get ready" but that it was encouraging he will be able to participate to some degree in practice. Rodgers would work in the rehab group at practice Wednesday, McCarthy said.
Rodgers was not on the practice field and said he spent the time indoors doing rehab with trainers.
Asked about the effect that Rodgers' uncertain status could have on the game plan, McCarthy said: "It's not a setback. This is how it goes during the season. You have players in different categories."
Vikings coach Mike Zimmer sounded convinced that Rodgers will be in the Packers' lineup and was preparing his team accordingly.
"Yeah. He walks on water so I'm sure he's gonna play," Zimmer said.