Packers Morning Buzz: Aaron Jones can atone for two-game suspension
Stu Courtney
Green Bay Press-Gazette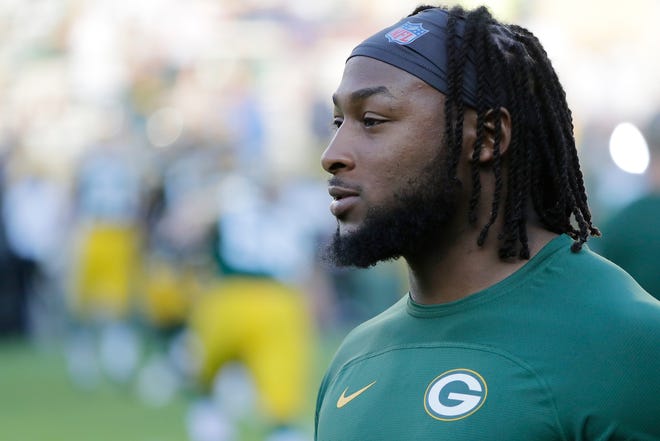 Did Aaron Jones' absence reduce the Green Bay Packers' chances of getting a victory rather than a tie Sunday against the Minnesota Vikings?
Welcome to your Morning Buzz, rounding up news and views regarding the Packers from around the web and here at PackersNews.com. Green Bay (1-0-1) will hit the road for the first time this season when it faces Washington at noon Sunday.
Tom Silverstein looks at how Jones needs to atone for the two-game suspension that may have been a factor in the Packers' failure to beat the Vikings.
Tom writes:
It wouldn't be a stretch to think that if the second-year running back had been available Sunday — instead of watching from an unknown location due to the two-game suspension the NFL levied against him — the Packers wouldn't have had to settle for five field goals in a 29-29 tie with the Minnesota Vikings.

Jones returns from his two-game punishment for violating the NFL's substance abuse policy this week, and he has a lot of making up to do. His poor decision to drive a vehicle after smoking marijuana could be the reason the Packers are 1-0-1 instead of 2-0.

To accept that assumption, consider his production from last year.

When healthy, he added an offensive dimension the Packers hadn't had since Ahman Green was setting the club record for rushing yards in the early-to-mid 2000s. And Jones has an ability to dodge defenders that Green didn't have.
You can read the entire column here:
Tom and former Packers safety LeRoy Butler break down key plays from Sunday's 29-29 Packers tie with Minnesota:
Even in Minnesota, they're not happy about the rule that penalized Clay Matthews' hit on Vikings quarterback Kirk Cousins:
Jim Owczarski has a quick scouting report on Washington, which Green Bay visits Sunday:
Ryan Wood takes note of how Packers running back Ty Montgomery has improved his pass blocking:
Sure looked that way Sunday against Green Bay:
Khalil Mack was wreaking havoc again for the Bears in Monday night's win over the Seahawks:
But fans in Chicago are wondering why the Bears drafted Mitch Trubisky to be their quarterback last year instead of the Chiefs' red-hot Patrick Mahomes:
The Packers slip a bit in ESPN's Power Rankings:
And it's a similar story with The MMQB rankings:
Rookie Daniel Carlson's two missed field goals in overtime against Green Bay brought a quick end to his Vikings career, and this move will make Minnesota better:
The concept of letting first-round rookie quarterbacks spend a season learning from the bench (the Brett Favre/Aaron Rodgers model) seems to be a thing of the past:
Be sure to join Pete Dougherty for his weekly chat answering fans questions at 11 a.m. CT Wednesday:
And we'll close with this look at a pro wrestling icon who spent more than a year trying to make the Packers' roster: