Packers Morning Buzz: Rodgers says offense 'not hitting on all cylinders'

Stu Courtney
Packers News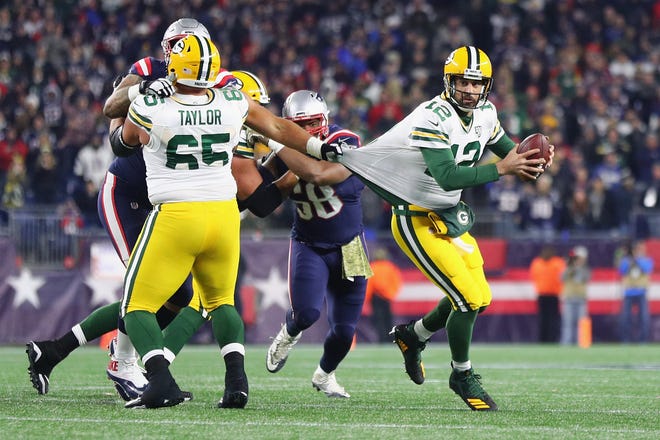 Welcome to your Morning Buzz, rounding up news and views regarding the Green Bay Packers from around the web and here at PackersNews.com.
The Packers entered the fourth quarter Sunday night tied at 17 with New England. But it was all downhill from there in a 31-17 loss that dropped Green Bay's record to 3-4-1.
We'll start with Pete Dougherty's assessment that the Packers' playoff hopes are on the ropes.
Pete writes:
At 3-4-1 the Packers are in real trouble. Their season isn't over — McCarthy and Rodgers have been in worse straits (4-6 in 2016) and bounced back to make the playoffs. But halfway through the 2018 schedule, this team hasn't found any kind of identity or shown it can blow up the scoreboard the way it needs to with one of the two best quarterbacks in the league.

On this night, a game there for the taking at 17-all in the fourth quarter turned into a fourth-quarter 31-17 rout.

"We're not hitting on all cylinders," Rodgers said after the game. "… It's happening in the worst times. When we have to play our best in those crunch times, we haven't been playing our best."
You can read Pete's entire column here:
Tom Silverstein wonders why the Packers refuse to run the ball more:
Pete and Tom share their thoughts about the game with our Olivia Reiner:
Ryan Wood writes that the Packers knew about the Patriots' trick plays but were powerless to stop them:
Jim Owczarski writes about running back Aaron Jones shouldering the weight of the Packers' loss:
The big picture isn't a pretty one for the Packers:
The Packers had a jet on standby in case punter JK Scott's wife went into labor:
Aaron Rodgers reflects on two winnable games that got away:
Rookie tight end Robert Tonyan will join safety Josh Jones on Monday night's "Clubhouse Live":
The MMQB writes about Tom Brady out-dueling Rodgers:
ESPN's Rob Demovsky says don't expect another Brady-Rodgers matchup any time soon, if ever:
Deion Sanders isn't pulling any punches when it comes to the Packers:
Gut reactions to the Packers' loss from Aaron Nagler of Cheesehead TV:
Unlike Ty Montgomery the week before, Jones wasted no time owning up to his costly fumble after the game:
The Vikings chalked up a franchise-record 10 sacks in a 24-9 rout of the Lions:
Julio Jones finally scored his first touchdown of the season and the Falcons wide receiver finished it off with a stiff-arm of Washington safety Ha Ha Clinton-Dix:
John Harbaugh is on the hot seat in Baltimore with the Ravens at 4-5:
And finally ...