Quick Takes: Packers' many flaws exposed in 20-17 loss to Cardinals
Ryan Wood
Packers News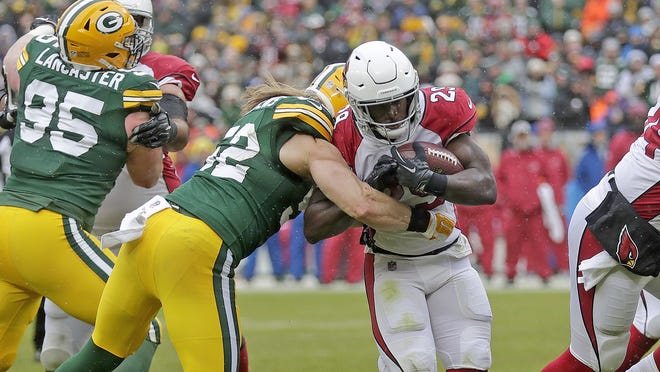 GREEN BAY - Fans wanting the Green Bay Packers to run the table late in 2018 might get exactly what they wish.
After the performance they put forth Sunday against perhaps the NFL's worst team, it's conceivable the Packers (4-7-1) could lose the rest of their games.
To understand their 20-17 loss to the Arizona Cardinals in full context, which was sealed when Mason Crosby missed a 49-yard field goal attempt as time expired, you can start with the Cardinals' now 3-9 record. No team in the NFL had won fewer games entering Sunday. Even that doesn't do it justice.
A week earlier, the Cardinals lost 45-10 to the Los Angeles Chargers, a fringe playoff contender in the AFC. A week before that, the Cardinals lost at home to the Oakland Raiders.
It could be argued a team tied for fewest wins in the NFL that loses at home against the dysfunctional Raiders is the very worst in the league.
And yet, here the Packers are.
On a windy, soggy day that started with sleet and snow at Lambeau Field, the Packers somehow managed to be worse than the weather. They led 10-7 at halftime, and entered the fourth quarter trailing 17-10. They rallied to tie it at 17 but the game turned on 32-yard catch by Arizona's Larry Fitzgerald on a third-and-23 play that set up the winning field goal.
Here are five observations from Sunday's debacle.
Rodgers, rinse, repeat
Aaron Rodgers saw his streak of consecutive passes without an interception exceed 300. That's the Packers franchise record, eclipsing Bart Starr's 294 passes without a pick that stretched over the 1964 and 1965 seasons. Rodgers has 21 touchdown passes this season with just one interception, which came in Week 4 against Buffalo when a pass deflected off the hands of two players. And yet it's clear the two-time MVP quarterback remains off his game. Rodgers missed at least two touchdown throws in the first half alone Sunday. Early in the game, he had rookie Equanimeous St. Brown wide open on the right side, but Rodgers threw late and behind incomplete. Later, Rodgers had Davante Adams wide open down the right seam, but Rodgers' pass overshot him by a couple yards. It's not the turnovers Rodgers is avoiding, but the open throws he's missing, that's defining his game right now. Rodgers finished 31-of-50 for 233 yards with one touchdown and a 79.8 rating.
Defense in decline
The Packers' defense already dominated one rookie quarterback inside Lambeau Field this season, shutting out Buffalo's Josh Allen in September. For much of the first half Sunday, it looked like the defense might come close to doing the same against Arizona's Josh Rosen. Instead, Mike Pettine's group couldn't finish what it started. Rosen was hardly good, finishing 11-of-26 for 149 yards, no touchdowns and a 61.2 rating, but he got enough help to score 20 points and take a field-goal lead within the two-minute warning. The Packers' defense clearly isn't what it was in September. Injuries have taken their toll, primarily with cornerback Kevin King missing his fourth straight game because of a hamstring injury. Still, the offense has not shown it can carry the weight, and on Sunday the defense followed suit.
Adams a lone, bright spot
Amid a morass of mediocrity, Davante Adams continues to be the best thing going for the Packers' offense. Days after saying he believes he's the NFL's best receiver, Adams had eight catches for 93 yards and a touchdown Sunday. He's now caught a touchdown in nine of the Packers' 12 games this season. He has almost as many multiple-touchdown games (two) as games without a touchdown catch (three). On an offense that needs every point it can get, Adams has been a scoring machine.
Finally something special?
The Packers might have something with Jaire Alexander at punt returner. Their best play of the first half came on a 24-yard return, with Alexander spinning to avoid a tackle before breaking the return outside. The play mercifully stood with no yellow flags for a special-teams unit that has been chronically penalized this season. Alexander replaced Tramon Williams, who muffed a punt last week in Minnesota replacing regular returner Trevor Davis, who was placed on injured reserve because of a hamstring injury. Alexander had some success in college, returning one punt for a touchdown in his junior season, but the Packers have been reluctant to put him in that spot this season. The Packers certainly need their first-round rookie on defense, where he has been one of their best players in coverage. But their special teams have been so bad this fall, any spark is not only welcomed but long overdue. The Packers took advantage of the short field with their lone touchdown of the half.
Right-side problems
The concern entering Sunday's game was the left side of the Packers offensive line. By the end, the injury problem had flipped to the right side. Left tackle David Bakhtiari (knee) and left guard Lane Taylor (quadricep) both started despite being listed questionable on the injury report. They finished the game too, but the right side of the Packers offensive line took a beating Sunday. Right tackle Bryan Bulaga left the game with a knee injury and did not return. Right guard Byron Bell also left with a knee injury.