Packers running back Aaron Jones of El Paso on mass shooting: 'It takes your breath away'
GREEN BAY – Green Bay Packers running back Aaron Jones attended Burges High School in El Paso, Texas.
When he wasn't attending class or running for touchdowns, he sometimes walked through Ponder Park and across Viscount Boulevard to visit the Walmart Supercenter on Gateway Boulevard, near the Cielo Vista Mall. These days, Jones, who makes his offseason home in El Paso, shops there often.
"I kind of grew up in that neighborhood," he said Sunday
When Jones found out it was the site of a deadly mass shooting Saturday, he couldn't believe it. He quickly took stock of where his immediate family was and then checked on relatives and friends.
"My parents were here, luckily," Jones said. "My girlfriend was on her way here when it happened. My brother is in Baltimore (with the Ravens).
"The only people I have, my godparents are there, my aunt and uncle and my girlfriend's family. Everybody is good."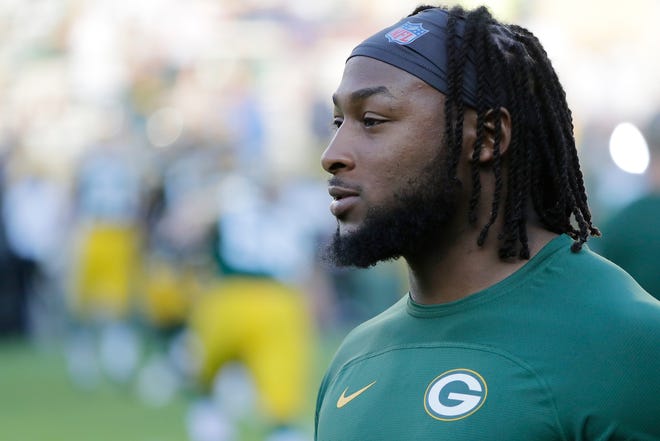 Growing up in a military family, Jones didn't always live in El Paso. But after graduating from Burges, he and his twin brother, Alvin, stayed home for college, attending Texas-El Paso, which is less than a 15-minute drive from where a gunman opened fire Saturday with a rifle inside the crowded Walmart.
So far, authorities have said that 20 people are dead and 26 others injured. Jones said he has looked at the names of victims who have been identified wondering if he knew any of them. He still can't believe something so horrible has happened in the city where he grew up in and continues to reside.
He's grappling with the senselessness of the crime.
"I was like, 'Wow if I weren't in training camp, who knows?'" he said. "Luckily, nobody I'm related to was injured, but I'm always at that Walmart. It's crazy to think that something like that could happen in your city."
The suspect reportedly drove nine hours from a Dallas suburb to carry out the attack, which federal authorities are considering as a possible hate crime. Authorities are investigating an anti-immigrant manifesto they believe the suspect posted online, while the El Paso sheriff called it a racist attack with the intent to kill Hispanics.
For Jones, such hatred does not reflect on how most in the El Paso community get along.
"El Paso is a close-knit community," Jones said. "The funeral homes have already offered to handle the costs. People are already lined up donating blood. They had to send some people home, telling them to come back tomorrow. So, everybody is like behind each other.
"It (the shooting) takes your breath away. It's really sad. It's not even somebody from El Paso, (it's) somebody who drove 10 hours just to do a hate crime. He definitely came for a purpose."
Field-goal competition resumes Monday
Mason Crosby couldn't kick Friday during the Packers' annual night practice inside Lambeau Field, but he did almost everything else.
That might seem strange for a kicker. By nature, kicking is a major part of the job. Yet there's quite a bit Crosby, or any kicker, can practice when an injury – in Crosby's case a sore calf on his right, kicking leg – prevents the position's primary function.
"Half of what I do," Crosby said, "even behind closed doors is all the visualization and mental reps. So whenever I'm not hitting balls, I'm walking the hashes and taking my steps and doing all that. So all that was, was just kind of getting my mental reps and my stuff done whenever I couldn't actually kick a ball.
"So that stuff to me is just as important as going out and hitting 50 balls."
On Friday, Crosby mimicked much of his pregame routine. He simulated his footwork, swinging his leg as if to kick an invisible football. He felt good, too.
Good enough for the Packers' medical team to clear him Sunday morning.
For the first time in camp, Crosby said, the veteran will kick in competitive drills Monday when the Packers host the Houston Texans for a joint practice. Crosby was able to practice Sunday, but the Packers included no kicking in their abbreviated session on Ray Nitschke Field. He has kicked some inside the Don Hutson Center in camp, but only in what he called a "rehab" setting.
It will be the official start to the Packers' kicking battle. Crosby should be considered the favorite against challenger Sam Ficken, but so far in camp only Ficken has kicked. Ficken showed impressive leg strength Friday, capping his night with three straight field goals longer than 50 yards, including a 63-yard kick on his last rep. He also was just 9-of-12 overall with misses of 54, 50 and 40 yards dampening his night.
Crosby said his leg should have no limitations Monday. The Packers are scheduled to practice kickoffs and field goals.
"I should be full go," Crosby said, "without any restrictions."
Ty Summer flashing some potential
Mike Pettine's defense has made headlines through the spring and nine practices of training camp with its cohesiveness and disruption. Free-agent acquisitions Za'Darius Smith and Preston Smith have made their presences felt, while first-round draft picks Rashan Gary and Darnell Savage Jr. have shown their potential.
The depth chart across most position groups feels pretty set, but that doesn't mean there isn't room for players to flash and potentially earn more reps – and seventh-round pick Ty Summers falls in that category.
"I think Ty's done a nice job. He's a pretty fast linebacker and again, a young player that's got a lot of room to improve and grow," Packers head coach Matt LaFleur said. "I'm pleased with him. Great, great character guy; he was a captain at TCU, so I'm excited about him."
Selected No. 226 overall out of Texas Christian, the 6-foot, 1-inch, 241-pound linebacker found himself in the backfield several times on blitzes during the Packers' fully-padded night practice Friday.
"It felt good," Summers said of his play. "I just wish we could actually tackle, obviously. We'll get that chance (against Houston), so hopefully, I can make couple of those plays for real. But to have a taste of it is something special."
On Sunday he played next to James Crawford on some second-team defensive looks and nearly intercepted a ball in coverage. Summers credited Pettine's calls and his defensive line for opening the blitz lanes Friday night, but he said in base packages he's "getting a good feel for how to read these type of offenses. It's different than college with all the spread and zone-read. It's different. But it's something that I'm starting to grasp a little bit with more reps."