Silverstein: Packers' loyalty to Brett Hundley misguided

Tom Silverstein
Packers News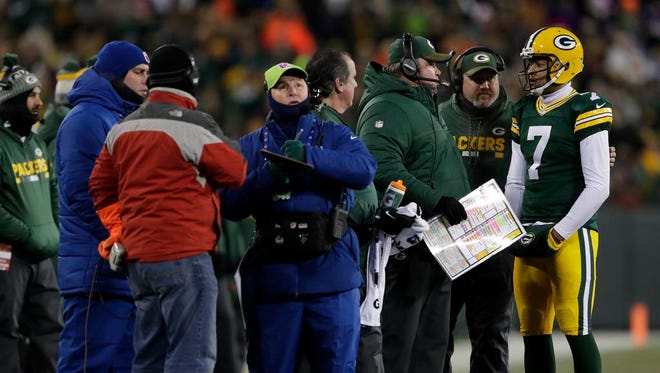 GREEN BAY - If general manager Ted Thompson and coach Mike McCarthy want Lambeau Field deserted save for Minnesota Vikings fans lined 10 rows deep serenading their heroes with chants of "Skol" as the seconds ticked down on another Green Bay Packers home shutout defeat, then they should just keep doing what they're doing.
Thompson should continue to focus on only one aspect of player acquisition and McCarthy should stubbornly stand behind a backup quarterback who through eight starts plays like he's a hologram programmed only to do two things: scramble and throw the ball away out of bounds and overthrow receivers running deep.
The recipe for finishing the home portion of your schedule in utter humiliation was written during the offseason when Thompson did little more than replace his free-agent losses with players kicked to the curb by their previous teams.
It also ignored the possibility that the quarterback he and McCarthy had been banking on to fill Aaron Rodgers' shoes should the unthinkable happen wasn't good enough to throw a single touchdown pass in five home starts. It brazenly called for the most promising of the three backups in training camp, Taysom Hill, to be released.
The final ingredient in this ignominy stew was McCarthy selling out those players who came to Lambeau Field with their work boots on by stubbornly refusing to remove his quarterback from a 16-0 loss that dropped the team to 7-8.
DOUGHERTY:Appalling sights plentiful on dreary night
INSIDER:Thumbs up to struggling defense
BOX SCORE: Vikings 16, Packers 0
Maybe he was thinking Brett Hundley could send another one into overtime like he did against Tampa Bay and Cleveland. But this was the 11-3 Minnesota Vikings not the 4-10 Buccaneers or 0-14 Browns.
More than likely he just obstinately refused to admit he was wrong about a guy who gets sent back to Go every time it seems like he might make it past Baltic Avenue.
If McCarthy had bothered to look around and see the body language of some of his players as Hundley continually refused to maneuver inside the pocket or spot open receivers when he did leave the pocket, he would have seen a defeated team.
There's no question trusted receivers like Jordy Nelson and Lance Kendricks betrayed Hundley with unconscionable drops and undrafted rookie Michael Clark, thrust into a vital role in his first NFL game, at times looked like the Division 1 basketball player he once was.
But Hundley had 12 possessions to put some points on the board, two of which reached the red zone, and still he was unable to produce a point. He had open receivers deep down the field at least four times and overthrew them.
His throw over the middle into double coverage against Kendricks was intercepted by safety Harrison Smith at the Vikings 5-yard line on third-and-3 at the 15. The Packers were down 10-0 at the time and any points would have been a boon to them.
RELATED:Packers deprived of chance to evaluate OL
RELATED:Hundley, Packers come up empty in shutout
VIDEO CHAT: Aaron Nagler postgame with fans
When Hundley failed to produce a point after two series in the third quarter, McCarthy owed it to his team to at least see what third-string quarterback Joe Callahan could do.
It's a pipe dream to think that Callahan would come in and lead the team to two touchdowns and a come-from-behind victory, but at least it would have showed the players that he was willing to try anything to beat the rival Vikings at home.
At the very least, Callahan could have scrambled around and made throws down the field, which is what he did best in college and which is what Hundley has shown he does worst in the NFL.
Maybe if Callahan had moved the ball a little it would have allowed an offensive line that overcame the loss of right tackle Jason Spriggs and blocked its tail off against one of the best defenses in the NFL to feel it had a reason to walk off the field with its head high.
"C'mon, you're asking me personnel (stuff). I'm a left tackle," David Bakhtiari said, when asked if McCarthy should have changed quarterbacks. "I'm not the head coach, I'm not the quarterback coach, I'm not the GM.
"You know who to ask if you want an answer to that one."
Bakhtiari did say he was aware of the Vikings fans gathered around the lower bowl cheering on their team as the Packers walked solemnly to the tunnel. The rows above them, where Packers fans had been sitting, were empty.
The Packers were getting a taste of their own medicine, which just a couple of weeks ago, they delivered in Cleveland, where their fans stuck around and cheered them wildly following a 27-21 walk-off victory at FirstEnergy Stadium.
It's an image few Packers ever had witnessed at Lambeau Field.
"It's tough seeing that," nose tackle Kenny Clark said. "All of it is because we didn't handle business. Simple as that. We didn't handle business against the Vikings and they're out there celebrating, happy they beat us."
McCarthy walked off to that same Vikings celebration, yet after the game, he chose to focus on dropped passes, the injury losses to Spriggs (knee), Nelson (shoulder), tight end Richard Rodgers (shoulder) and running back Aaron Jones (knee) and how Minnesota handled the footing better than his team.
Asked about Hundley's play, he said: "I mean, he extended plays. He made plays with his feet. Decision-wise, obviously, I think he'd like to have that interception back. He was obviously there early. He held on too long. I'm not ready to give anybody a grade right now."
Hundley completed 17 of 40 passes for 130 yards and two interceptions (30.2 rating).
GAME BLOG:Review Silverstein's live coverage
NFL: Scoreboard | Standings
On a night when the defense managed to give the Vikings everything they could handle despite missing Clay Matthews (hamstring), Nick Perry (ankle/shoulder) and Damarious Randall (knee) and getting what it could out of injured Davon House (back), the Packers were shut out, marking the first time since 2006 they have been shut out twice at home in the same season.
Hundley finished the home portion of his eight starts with 89 completions on 159 attempts (55.6 percent) for 785 yards and no touchdowns with seven interceptions, which is good for a 50.6 passer rating. The Packers went 1-4 in the five games he started at Lambeau Field.
"To go out there and not be consistent — which is my No. 1 goal — and just give our team an opportunity to win each game, that hurts," Hundley said. "It's easy to go out there and just play, but when you've got 10 other guys busting their butt for you, I play for them.
"They're busting their butts for me, and all I try to do is just be the best I can be."
In a bottom-line business, that's not good enough. Thompson and McCarthy know that and they should show their players it extends to everybody. If they don't, they're selling them short.