Lyft partners with Drive.ai to provide self-driving rides

Marco della Cava
USA TODAY
SAN FRANCISCO — Ride-hailing start-up Lyft may soon be picking up passengers in self-driving cars owned and powered by tech start-up Drive.ai, the two companies announced Thursday. 
When the program starts around Drive.ai's Mountain View headquarters, around 10 cars outfitted with the company's sensors and software will become a part of Lyft's free self-driving service, although passengers who are assigned an autonomous Lyft can opt out. 
"The purpose here is to see how passengers interact with autonomous vehicles, as well as to see how cities need to change to integrate them," Drive.ai CEO Carol Reiley tells USA TODAY. "We've been testing for about a year, so we're excited to start having passengers on board (along with a safety driver)."
Lyft did not offer up an executive to discuss the news. No precise timing was offered for the start of the test program.
The Drive.ai partnership is yet another push by Uber's smaller rival to press forward on autonomous car technology, which ultimately could turn ride-hailing into a very lucrative business once the need to pay a driver vanishes.
While Uber grapples with both the onboarding of new CEO Dara Khosrowshahi as well as a sensor lawsuit from Google-owned Waymo, Lyft is making broad bets on self-driving car technology.
In June, it partnered with Boston-based nuTonomy for the purpose of bringing self-driving Lyfts to that town, and in July it opened a dedicated facility in Silicon Valley. And that's on top of existing Lyft partnerships with Waymo and General Motors.
GM has indicated that it will consider deploying self-driving Chevy Bolts on Lyft's network. Last year, GM invested $500 million in Lyft, and paid a similar amount to acquire Cruise, another Bay Area tech company that develops bolt-on autonomous tech  kits for vehicles. 
By contrast, Uber felt it could go it virtually alone with a self-driving cars.
The company's in-house program accelerated quickly after then-CEO Travis Kalanick decided that ditching drivers would radically improve the company's business model. Uber hired a platoon of robotics experts and set up a headquarters in Pittsburgh, which also played host to Uber's first self-driving passenger cars, which were Fords and Volvos harnessed with Uber tech. 
But Uber's big dreams turned into a small nightmare after the purchase last summer of Otto, a self-driving truck start-up founded by Google veteran Anthony Levandowski, who is accused by Waymo of stealing proprietary sensor technology and passing it along to Uber. A trial is pending.
Lyft has made far less noise or promises about self-driving cars, choosing instead to quietly forge alliances with start-ups and automakers alike while focusing on growing its hold on the U.S. ride-hailing market.
A variety of surveys suggest that Lyft has grown its share of rides to around 25% from 10%, with its share accelerating since Uber hit a speed bump in February after a blog post accused the company of fostering a sexist and toxic work environment.
In partnering with Drive.ai, Lyft has an easy way to co-brand with a Silicon Valley company that already has a small fleet on the road.
Drive.ai recently announced a $50 million Series B round, bringing its total to $62 million, and has grown in the past year from a dozen to 80 staffers. Led by Reiley, 35, Drive.ai takes existing cars and adds radar, cameras and LiDAR (light detection and ranging) sensors to their roofs and bumpers, whose inputs are processed by software to give the car vision.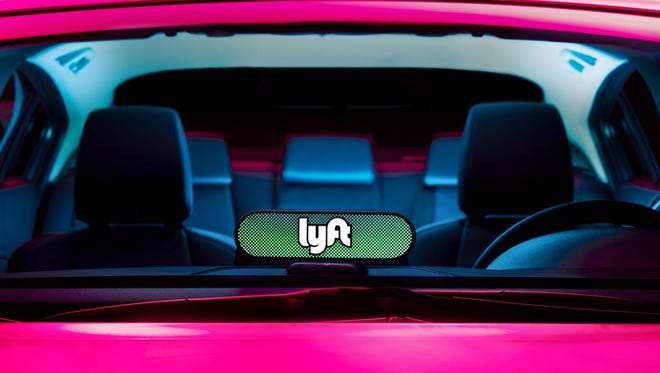 Reiley says that her company is focused on a future where some of the world's most repetitive driving chores — from taxis plying a city to trucks and buses travelling fixed routes — are handled by autonomous vehicles.
"We do have consumer discussions, but mostly our strategy is to focus on B to B (business to business) solutions," she says.
While automakers and tech companies alike have made huge strides in the past years on cars that can handle all by the worst of roads and weather, most experts say broad consumer acceptance of self-driving cars is a ways off. 
More realistic, however, is gradually building public confidence in a network of ride-hailing cars that can "communicate" with each other as well as infrastructure markers within a geofenced area.
Autonomous car proponents contend that such technology can drastically reduce the nation's growing number of traffic deaths, which last year hit 40,000.
Follow USA TODAY reporter Marco della Cava on Twitter.